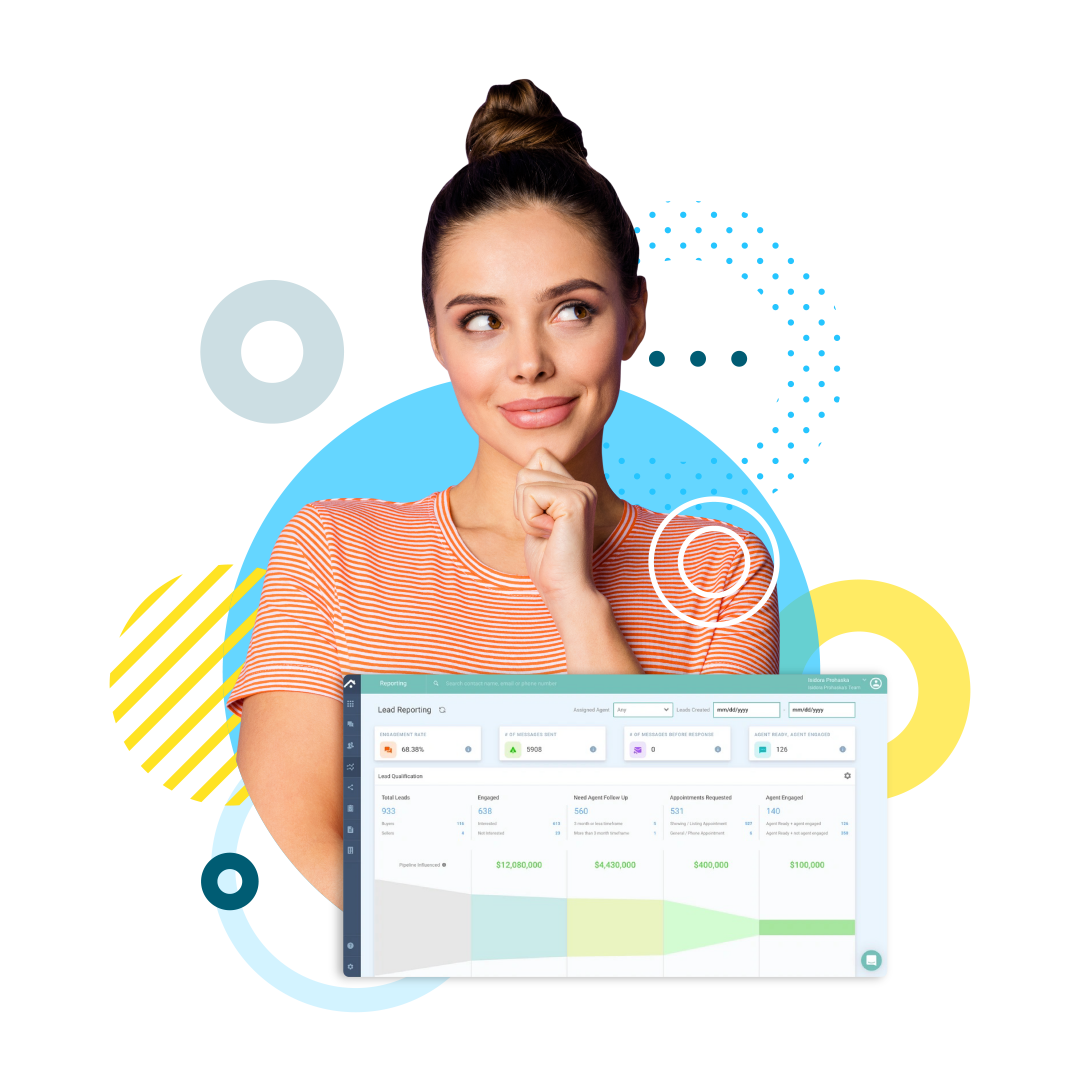 Spend more time
closing

and less time qualifying with Structurely
Conversational artificial intelligence that responds to, qualifies and nurtures your online leads
Dippidi AI Assistant Powered By Structurely
is pre-trained and proven in lead conversion. Skilled objection handler, bilingual and empathetic.
What Can Dippidi AI Assistant Do For You?
Get up to
7x More Appointments

Set with Your AI Assistant
From quick first-touch texts to conversations that require long-term follow up, your AI Assistant is on the job.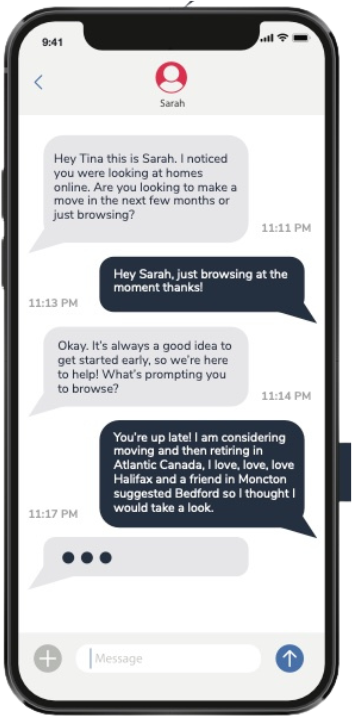 AI Text Message
Text messaging is the future of sales. Dials are dying and your leads are buying through messaging. Send instant responses to new leads 24/7/365 with a 98% open rate and 57% response rate. Your AI assistant will have empathetic, human-like conversations to qualify your leads.

AI Email
Your leads know email. It's where they've bought for years. Your AI assistant immediately responds to leads to qualify them and nurtures those leads who have not responded yet.
Here's how your AI Assistant
converts more of your real estate leads
Make the first impression with your real estate leads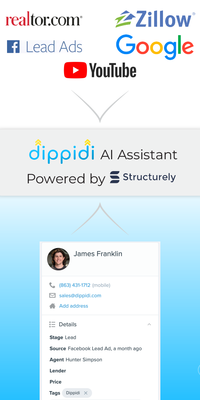 Connect lead sources
Connect new leads from your FollowUp Boss CRM or revitalize existing leads.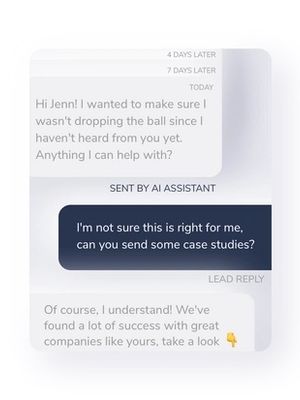 Long-term follow up
Most deals take 6 - 8 contacts to close. Our AI Assistant nurtures unresponsive leads 25 times over 12 months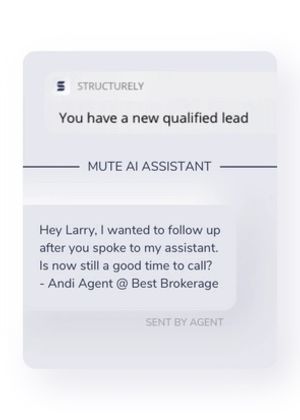 You take over lead
Get notified of leads that are ready for you through mobile app, text message or email
What questions do you have?
Yes, we email your contacts!
Yes, I text your contacts.
We follow up with your unresponsive contacts for 12 months. I also follow up with contacts who initially responded but then stopped responding.
I'm an AI Assistant, but you'd never know I'm not human. I overcome objections, have empathy and include the occasional typo in my messages just like my human friends would!
Yep! I'm bilingual in Spanish in English so if a contact requests to speak in Spanish, I automatically switch to messaging in Spanish.
I'm eligible to work in the United States and Canada right now.
Yes! I directly integrate with your Followup Boss CRM so you can see all the conversations I'm having with your contacts right in your CRM. You can also see my conversations in the Structurely dashboard or mobile app.
yes, we have a 6-month contract.
I come pre-trained so you don't need to train me!
Yes! You can customize the questions I ask, answers I provide and responses I say.
Yep! I directly connect with your Followup Boss CRM so all my conversations are sent back to your FUB in real-time.
I copy the lead routing rules you have set up in your CRM so the right lead always goes to the right rep!
I'll send you push notifications through the Structurely mobile app, text message and email so you're always up to speed.
I have a human team that helps me create the best possible response for your leads when I get stumped!
Introduce me to your team and hire me!
Get started with Structurely
Create your account, onboard with our team, hook up your lead sources and you're up and running. It's that easy.